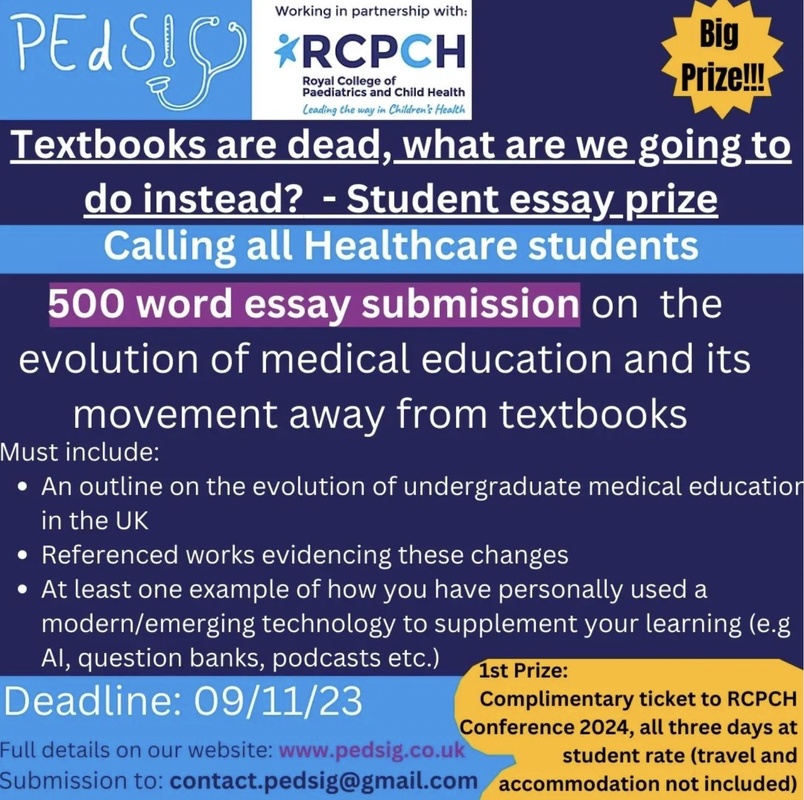 Textbooks are dead, what are we going to do instead? – Student essay prize
Calling all Healthcare students!
We are advertising the Winter 2023 PEdSIG Student Essay Prize!
We invite a 500-word essay submission on the evolution of medical education and its movement away from textbooks towards more innovative forms of learning.

Must include:
• Comment on on the evolution of undergraduate medical/healthcare education in the UK
• Referenced works evidencing this
• At least one example of how you have personally used a modern or emerging technology to supplement your learning e.g AI, question banks, podcasts etc.
This theme related to the PEdSIG Winter Meeting 2023/4, which will be discussing the evolution of learning tools away from traditional models.


First prize:

Complimentary ticket to RCPCH Conference 2024, all three days at student rate (travel and accommodation not included)
Runners up:

2x £25 Amazon voucher
Deadline:

This scheme is currently CLOSED! The outcome will be distributed shortly after marking is complete.
In order to apply, and in case of further questions, please email your submission to [email protected]